The Ducati Diavel is already one fast performance cruiser scoot but the folks at Commonwealth motorcycles wanted a winter project and well, wouldn't it be better with a turbocharger?
Why choose the Diavel.  Easy says Chad Wells :-
"…because it is so damn cool!  I think the styling is gorgeous, the design and overall appearance for a sport cruiser is superb. The classic Ducati single sided swing-arm, machined wheels, matching machined rotors, etc….. With the mufflers gone we were able to open up the whole right hand side of the bike.  You see the beefy swing arm and all of the killer looking wheel now.  It just showcases what Ducati had hidden behind humdrum mufflers. "
Another reason to do a turbocharger conversion on the Ducati Diavel is because, to date, nobody else has and so the allure to be first is attractive.  Chad again:-
"I planned on being first one in country or world to do this, and it looks like I am. I hope Ducati enthusiasts will enjoy it and be excited to see the finished product. I don't think we will develop or sell kits, but you never know.  We had been selling a few Diavels at the dealership and when riding them I was really surprised with the whole package.  I fell in love with the bike but felt there was something missing!"
With a long wheelbase and a big fat tire, the Diavel is probably uniquely suited to handling even more power than the stock Testastretta 11º kicks out since, unlike most other performance cruiser options, it has highly specialized suspension, wheels and brakes straight from the factory.   On 8 lbs of boost currently the turbo Diavel boasts 236bhp and 130 ft/lbs on pump fuel!  There's a word for that – plenty."
Click graph for full view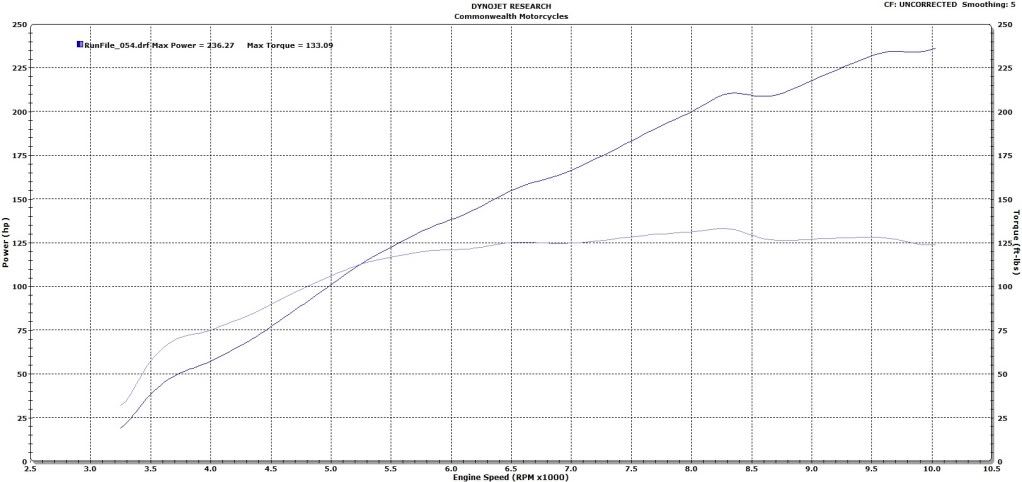 Ducati Diavel Turbo Specifications
Garret GT2860R Turbo
Tial stainless steel turbine housing
Tial polished compressor housing all V banded connections
Tial 44 mm external wastegate
Tial MVR blow off valve
All custom fabricated inconel exhaust side
Polished aluminum pressurized side plumbing, and custom aluminum air box/plenum, open down pipe.
Fuel system, a RCC fmu external regulator, modified injectors, larger fuel pump, a custom one off Power Commander v for boost mapping from Dyno jet, along with a re-worked factory ECU.
Motor internals are stock at the moment, except clutch work
There are probably 200 hours of work in this project and its not finished yet.  The team promise a surprise or two when it is finally done.  We can't wait and sign us up for a ride!